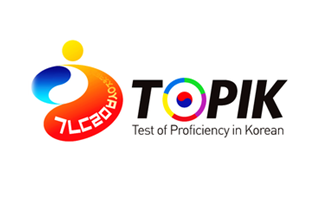 TOPIK, or the Test of Proficiency in Korean, is an international test designed to measure the ability of non-native speakers for expression and comprehension in the Korean language. The test is administered by the National Institute for International Education (국립국제교육원, NIIED).
At present, the TOPIK exam is conducted in more than 30 countries worldwide. In St Petersburg, the test is held three times annually – in spring, summer, and autumn.

Who are the TOPIK test-takers?
Korean language learners
Foreign nationals and overseas ethnic Koreans whose first language is not Korean
International students who want to study at a Korean university in and outside of Korea
Individuals who want to be employed at Korean companies in and outside of Korea
Individuals applying for a work visa for employment at Korean companies and public institutions
Why should you take the TOPIK test?
The test is used to assess and confirm your Korean language skills. The TOPIK certification is an admission requirement for bachelor's and master's programmes at Korean universities and for employment at Korean companies and public institutions. Holders of TOPIK certificates are eligible to apply for tuition fee discount and scholarships in some Korean universities. A TOPIK certificate is also necessary for: acquiring permanent residency status or naturalisation in South Korea; immigrant visa application, including marriage-based immigrant visa, government college scholarships and other academic activities.
TOPIK exam dates at St. Petersburg University for 2023s
| | | |
| --- | --- | --- |
| Exam Dates | Registration | Results announcement |
| Sun 9 April | 21 December 2022 – 25 January 2023* | 25 May |
| Sun 9 July | 10 April – 5 May | 17 August |
| Sun 15 October | 28 June – 26 July | 30 November |
Acceptance of documents for the TOPIK 90 (October 15, 2023) will end on July 26, 2023 at 01:00 PM (Moscow time).
Payment is accepted until July 26, 2023 until 06:00 PM (Moscow time).
Note that applications submitted before or after the registration period are not accepted; i.e. you cannot register for TOPIK unless it is the registration period. All the applications are processed on a first come, first served basis.
Please note that due to the unstable situation with the spread of the new coronavirus infection COVID-19, remote registration is available.
To register for the TOPIK test, you will need to complete all the registration steps. Filling in the online application form does not mean you may skip the step of filling in the 'Test of Proficiency in Korean Application Form' and emailing all the required documents and vice versa. The registration procedure is as follows:
You will need to complete the online application form.

Please fill in the form with care. We recommend that you spell your full name in the Latin transliteration as shown on your international passport. If you are not sure how to spell your name in the Korean transliteration, please contact us at the Language Testing Centre, and our expert will help you. In accordance with the TOPIK exam procedure rules, once the registration for the test is complete, any misspellings or incorrect information (name, birth date or place, etc.) cannot be changed.
a copy of your passport (personal data page + place of residence page) / a copy of your birth certificate, and a copy of your legal guardian's passport, if the candidate is under 18 y.o.
a file with the completed 'Test of Proficiency in Korean Application Form' (your full name in the Latin transliteration should be spelled as shown on your international passport)
a standard colour ID photo
You can download the 'Test of Proficiency in Korean Application Form' and a sample of a properly completed application form below:
After your application has been processed by the Language Testing Centre administrator, we will send you an agreement, bank details for you to arrange payment for the exam, and further instructions.
All incoming applications are processed by the Language Testing Centre manually; therefore, the waiting time for a response is up to 2-3 days. If you have not received a reply to your application in good time, please contact us by phone: +7 (812) 325-11-24.
Note! After emailing the signed documents and the payment receipt to the Language Testing Centre, make sure to check your email box for the acknowledgement email confirming that we have received all your documents. If you have not received the acknowledgement email within 2-3 business days, please contact us by telephone.
Your exam day
On the day of the exam, the exam room will be open 30-40 minutes prior to the start of the exam to allow for check-in procedures. All the candidates are required to present the following documents:
Identity document (international passport for checking the spelling of the candidate's name in the Latin transliteration*)
If only an internal Russian passport was provided for registration and the candidate does not have a valid international passport, a Russian passport or a birth certificate can be accepted. However, one current form of a photo ID must be provided.
The TOPIK Identification Slip with a photo (a standard colour ID photo) and the candidate's registration number. The photo on the registration slip must match the photo used for registration. Please retain the TOPIK Identification Slip till you have received the official TOPIK score report.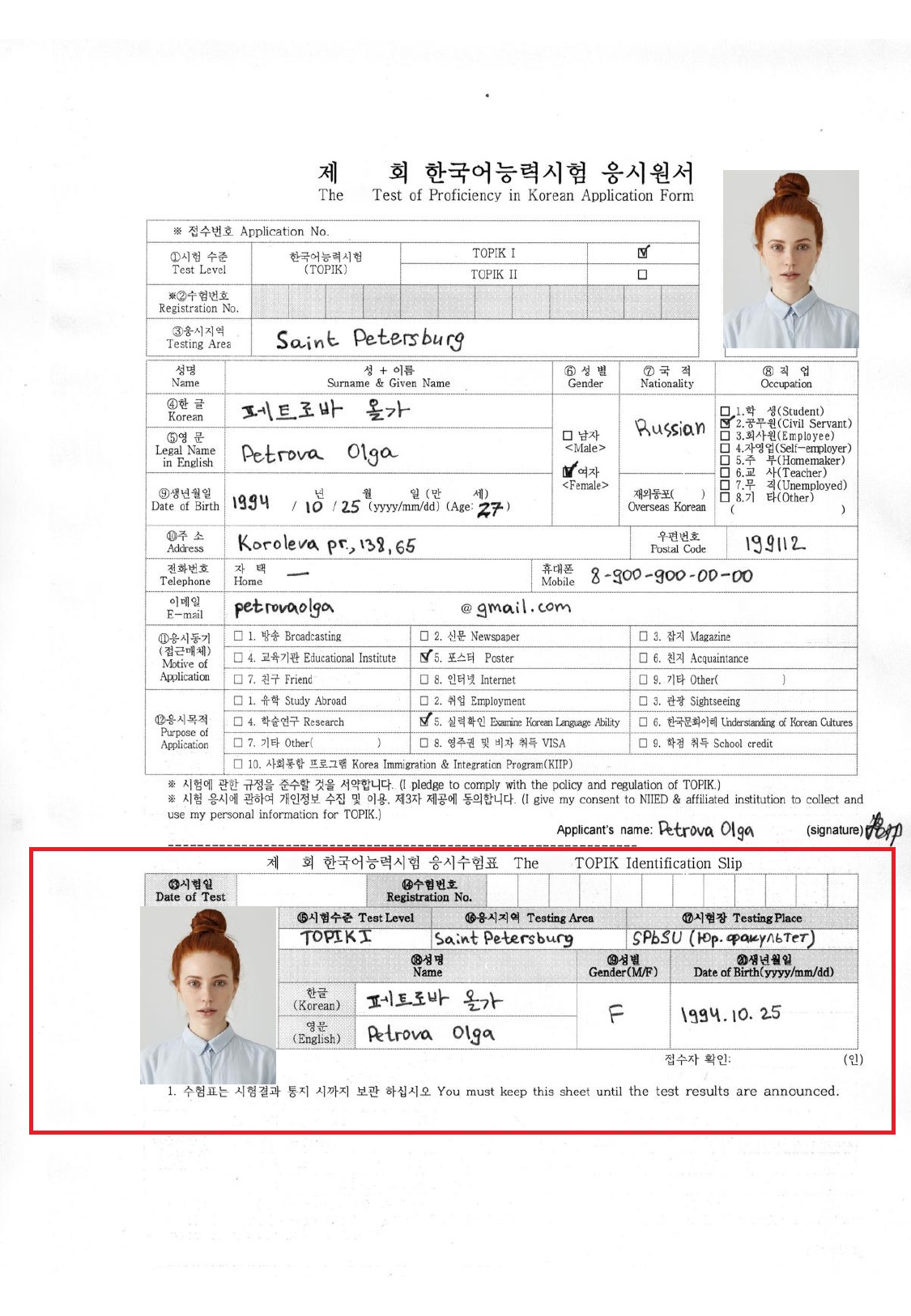 Candidates unable to present the aforementioned documents will not be permitted to take the test, nor will the test fee be refunded.
Dear participants, be sure to read the Rules of the TOPIK before the exam to exclude possible violations in the exam.
In order to comply with the necessary exam COVID-19 Regulations, the following rules apply for all exam days:
When entering the exam room Candidates will be asked:
to use hand sanitizer;
to have their temperature taken;
to present their ID and TOPIK Identification Slip.
It is obligatory to wear a mask in the exam room.
Please follow social distancing rules when entering and leaving the exam room.
Candidates who display symptoms of COVID-19 (fever > 37.5˚С; coughs; shortness of breath; or difficulty breathing) CANNOT take the exam.
Exam fees
| | |
| --- | --- |
| Level | Exam fee |
| TOPIK I | 2000 roubles |
| TOPIK II | 2500 roubles |
What is the validity period of the TOPIK score?
The TOPIK score or certificate is valid for a period of 2 years from the date of test results issued.
TOPIK test format
TOPIK test has two levels – TOPIK-I and TOPIK-II. TOPIK-I, i.e. the beginner level, has two sublevels, or (급) – 1 & 2. TOPIK-II, i.e. Intermediate-Advanced level, has 4 sublevels – 3, 4, 5 & 6. In the table below, you can see the TOPIK levels and passing scores.
Type

TOPIK I

TOPIK II

Level

1급

2급

3급

4급

5급

6급

Passing score

80

140

120

150

190

230
When you take a TOPIK I or TOPIK II test, you can get a level between 1급 and 6급 based on your total score in the test. For example, if you take the TOPIK II test hoping to achieve 4급, but your score is a little lower, you will get 3급. You can also fail the test if you do not accumulate enough points.
TOPIK testing schedule
Level

Period

Language skill

Entry time until*

Start time

Finish time

Duration (mins)

TOPIK I

1st

Listening

09:10

09:40

11:20

100

Reading

TOPIK II

1st

Listening

12:20

12:50

14:40

110

Writing

2nd

Reading

15:00

15:10

16:20

70
* Candidates arriving after this time will not be permitted to sit the test.
Useful links
Exam preparation materials
St Petersburg University By-laws